Hi there!  Recently I had the pleasure of participating in the Thrifty Love Gift Exchange.  I was paired up with another blogger and we were sent out into the thrifty world to shop for each other.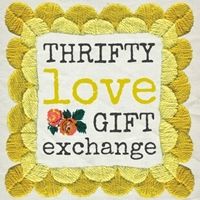 I was paired up with

Lesley from Recipe for Crazy

.  After exchanging emails and visiting each others blogs we both had a pretty good idea of what to look for.  I was able to find a few things on Lesley's wish list on my Thrift Store hunt but I also found a couple of items I knew I could make into an extra special gift for her.
What I learned about Lesley from our email exchanges and visits to her lovely blog gave me the perfect idea to design a keepsake box for her and her two beautiful little girls.  I found this post by Lesley to be particularly inspiring.  It's a wonderful read and I hope to create a similar post some day so that all of you can get to know me the way I have gotten to know Lesley…even if it is only through cyberspace
Would you like to know how I created this Kid's Book Keepsake Box?  It's super easy and makes a wonderful gift for a friend, family member, teacher and anyone in between!  I'll take you through the steps but stay tuned for more thrifty gifts love at the end.
How to make a Kid's Book Keepsake Box:
You Will Need-
Any box will do.  I happened to find this little guy for 2 bucks….right after I found this…
I was so excited to find this Jumbo version of "Guess How Much I Love You."  I have 4 copies of this book myself.  My favorite version is the Recordable one that me and my son recorded together.  He played the part of Little nut-brown hare and I was Big nut-brown hare.  This is one of my greatest treasures.  The large versions of the illustrations by Anita Jeram were the perfect size to Mod Podge to the wooden box.  I plan on framing a few of the other pages for my son's room.
I've got the stuff, now what?
During our email exchange I discovered that Lesley loves teal.  By combining Martha Stewart Satin paint in Beach Glass and Folk Art Metallic Blue Sapphire I was able to create the perfect shade of teal!
How did I get that lovely crackle finish you ask?  This one I can't take credit for.  Please visit Make the Best of Things for a fabulous tutorial on how to create this look without the high cost of crackle medium.  You'll want to pin her tutorial…if you haven't already
No need to sand off the entire finish.  Just rough it up a bit to give the Mod Podge some grip.
Now we need to prepare our embellishments for the top of the box.  Kraft Glassine has many uses, I've even made flowers out of it.  For this project I decided to use it as a background to layer the "Guess How Much I Love You" images.
If Mod Podge were edible I think it could cure the common cold.  It certainly has been the "cure" for pretty much EVERY project I've ever created!
I distressed the edges of some of my papers to add texture.  Distess Ink in Peacock Feathers was added to bring them out…this is my new fave!
Sometimes you have to think INSIDE the box.  We don't want to have a beautiful outside with a boring inside now do we?  I used text from "Guess How Much I Love You" and scraps of DCWV "Hippie Chick" paper left over from Paper Flower Hair Clips I made.
Another thing I learned about Lesley is that she is a Christian and likes anything with scripture.  It just so happens that I had some lovely vellum Scripture Quotes (DCWV) leftover from the Baby Keepsake Box I made for my sister and the Scrapbooks I made for my parent's Foreign Exchange students.
Here's a closer look at the scripture quotes I used.  These two seemed like the perfect addition to what I hope to be…the perfect gift!
See how easy it is?  Before you rush off to create one of your own let me show you some of the other things I thrifted for Lesley…
Lesley likes vintage Pyrex and teal.  Now I know this Pyrex dish isn't vintage per say buuuut it had a Daisy on it and some old lady totally gave me stink eye when I grabbed it…I win!!  While checking out I spied this cool geometric bangle.  Of course I had to make a box for it
Does altering the outside of boxes count as thinking "outside the box?"  I sure hope so!  This was a Filene's Box originally.  It was altered with Mod Podge, tissue paper, Distress Ink, Sharpie….and you guessed it DCWV Hippie Chick scraps.  I recycle all of my packaging…down to the bubble wrap.  Stay tuned for upcoming tutorials on how to create these fun paper flower gift boxes.  I'll also be showing  you how to up-cycle packaging to make your "Happy Mail"….well…happier.  For more ideas on how to recycle plain cardboard boxes into gift boxes check out this tutorial.
Y'all come back now ya hear?  Thanks for visiting
Have a gifted day!
Amy*