Oops!  I've done it again!   I've gone and altered a wayward item again…when designing for the Altered Alice how can I not?  I've been down the rabbit hole all week with nary a moment  to spare.   It's time to take a deep breath and relax.  Why it seems it's time for tea…won't you have a cup of tea with me?
This month's challenge is "Anything Goes".  Yippy skippy!  I think I'll go to my wonderland garden for some tea!  Where shall we set our tea cups and tea pots you ask?  Why on this lovely Alice in Wonderland tea-table I've created thanks to our fabulous sponsor…Alpha Stamps!  Here ye Here ye…read all about this "Wonderful" shop at the end of this post.  I will be providing links to all the wonderland goodies I used along the way.  A visit to Alpha Stamps is nothing short of a visit to Wonderland!
This is how my Alice in Wonderland Tea Table looks now…but before the wonderland treatment…it wasn't pretty!
Can you say rusty and crusty?  Yuck!  We need a makeover stat!
Have no fear Krylon is here!  There ain't nothing a fresh coat of Krylon can't fix!
Using a Mix of Krylon Make it Stone Metallic, Krylon Metallic Silver, and Krylon Black Gloss paint I was able to turn what was once rusty and crusty into something fun and funky.  I used Martha Stewart Acrylic black paint to cover the table top before digging into my Alpha Stamps goodies.
I armed myself with an arsenal of Mod podge tools and my weapon of choice…a fresh jar of Mod Podge.
 To create this collaged table top I used a mix of papers from Alpha stamps including  Kraft Reflections All Decked Out Scrapbook Paper from Graphic 45 for the playing card border.  The center is a mix of collage sheets Large Blue Caterpillar ATCs Collage Sheet (my personal fave),   Alice in Green Collage Sheet ,  and I Wonder Collage Sheet   for the text and Alice Stamps along the sides along with the Mini Playing Cards.  The White Rabbit ATC collage sheet was also used…and you can get one too just for entering our challenge at the Altered Alice!  How cool is that?
Here I have used  Alice's Adventures Rubber Stamp Set to stamp and emboss my images on Ranger Foil tape.  Be careful not to handle the foil tape too much or you will wind up embossing your own fingerprints and the CSI's will come after you!
 Beneath the Alice Stamps from the I Wonder Collage Sheet and Mini Playing Cards lined sides I have added Brass Flatware  and  Clock Face Buttons to the lip of the table.
Here I have embellished the ring around the table legs with Silver-Plated Teacup, Teapot, and Spoon charms.  Can you see the subtle texture on the silver part of the legs from the Krylon Make it Stone Metallic?
 Everyone is ready for tea in my Alice in Wonderland Garden!  Thanks for coming to my tea party today.  The party continues over at the Altered Alice until May 25th…don't be late this is a VERY important date!  You can read all about our challenge and our wonderful sponsor below.  There's still time to save big on Wonderland supplies at Alpha Stamps…I'm heading there now…I've got holes on my Alice in Wonderland Dresser that can only be filled by Alpha Stamps!
Have a "Wonderful" day!
Amy*
Our sponsor this month is the amazing Alpha Stamps [Store | Blog], and Alice fans are in for a real treat when they shop in this magical store! Alpha Stamps features exclusive rubber stamps, collage sheets, paper dolls, kits and collage supplies of all kinds. Their Alice in Wonderland selection is HUGE! Other shopping themes include Steampunk, Birds, French Vintage, Circus, and many more. I love it that you can shop by theme or product type. Be sure to enroll in their newsletter, as the supplies used in the latest artwork from their talented design team are often on sale! They also have fun challenges that are hosted on their Facebook page. The winners are chosen by the number of "likes" each project receives!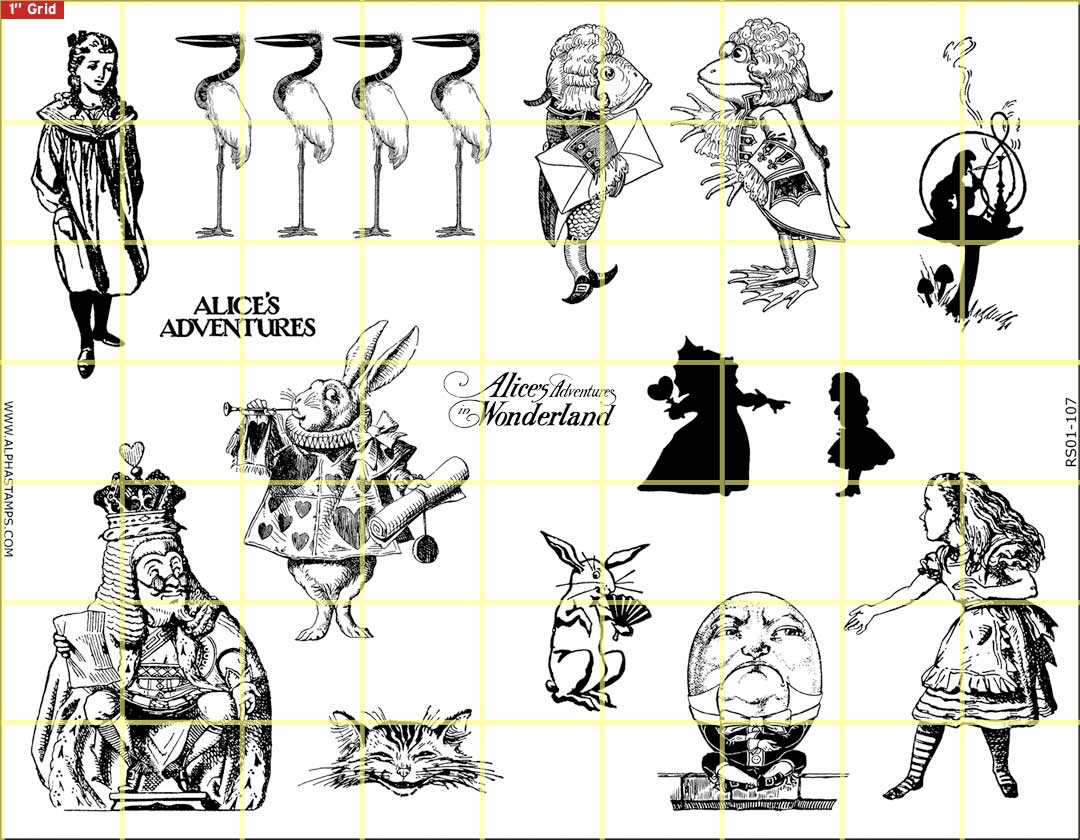 The Prize – Anything Goes and Everyone Wins!
The Altered Alice design team will be working with this newly released exclusive "Alice's Adventures" stamp set from Alpha Stamps, plus some Alpha Stamps exclusive collage sheets and other collage supply goodies!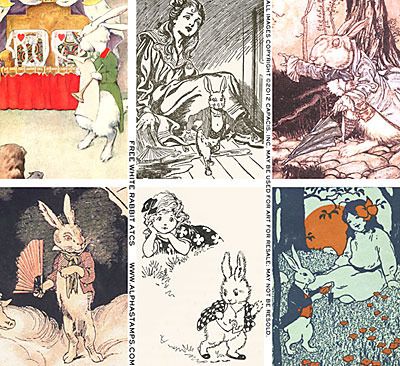 ONE  randomly drawn winner will receive the same "Alice's Adventures" unmounted rubber sheet that the design team is using!
EVERYONE who participates in the challenge will win a brand new digital White Rabbit ATC Collage Sheet, emailed at the end of the challenge!  SO DON'T BE LATE – enter by May 25 (Eastern daylight time zone)!
And if you just can't play along, you can still enjoy ALL ALICE ON SALE at Alpha Stamps, now until May 26, 2012. So get going and let's see where you go with this fabulous Alpha Stamps challenge!