You've got Mail!…from Wonderland!  This month at The Altered Alice the design team is showcasing a fabulous new stamp set from Stamp Attack featuring Wonderland postage.  How fun!  Naturally, when receiving letters from Wonderland one must have a mailbox to put them in. I have created an Alice in Wonderland themed mailbox for my project.
I'm just waiting for my invitation to the Mad Tea Party to arrive, or perhaps Alice will write and have the frog footman deliver my letters in person
Here we have the Mouse's "Tale" affixed to the flag….what a great stamp from Stamp Attack!
I just love these Wonderland Postage Stamps.  I stamped them in Ranger Archival ink and embossed with Clear and Distress Embossing Powder (Black Soot) to vary the contrast.
The stamps were placed around the Mailbox in a random fashion…sometimes it's good to be random and let things fall into place on their own.
Embossed sheet metal colored with Alcohol inks was added to the back and front of the mailbox for an extra pop of color and interest.
This Alice in Wonderland Mailbox was easy peasy and tons of fun to create.  Follow these simple steps to create one of your own…
STEP 1:  Paint a Plastic Mailbox with Spray paint of your choice
I purchased my mailbox in white at Home Depot for $10.29.  I taped off stripes with painters tape and gave it a light coating of Krylon apple red.  For the Second coat Krylon Glitterblast Cherry Bomb was used.
STEP 2:  Seal with Krylon Glitterblast Clear Sealer and CAREFULLY remove tape.
Step 3:  Add dots with foam brushes and Martha Stewart Acrylic
I used a mix of Martha Stewart Black Satin and Glitter Acrylic Paint.  To create the dots I used round foam brushes in three different sizes.
Step 4:  Punch hearts from playing cards adhere with Beacon 3-in-1 adhesive.  Seal with Deco Art Triple Thick Glaze.
I punched hearts from playing cards with a Fiskar's Funky heart punch (one of my fave punches).  The Mailbox was then sealed with Deco Art Triple Thick Glaze.  I really love this stuff!  It will give your finished project a beautiful glass like sheen.  This is the second project I have used it on.  If you missed the Alice in Wonderland Tea Table from last month you can see it here.
Step 5:  Color Sheet Metal With Alcohol inks
Step 6:  Emboss Sheet Metal with Tim Holtz Alterations Embossing folder.  Sand raised surface to show metal.  *I recommend cutting metal with Tonic Scissors.  Not only do Tonic Scissors cut through metal with ease the serrated edges will turn down the metal so it will not be as sharp once cut.
TIP:  When adhering metal embellishment I use E-6000.  Place a piece of wax paper over your embellishments and lay heavy books on top and leave to dry overnight.
STEP 7:  Stamp images on Ranger Foil Tape sheets with Archival Black ink.  Emboss with Distress embossing powder in Black Soot and Clear to vary contrast.
Peel, stick, and Wah la!  You will have a lovely Alice in Wonderland Mailbox!
Hurry Scurry and enter a postage themed piece in our challenge at the Altered Alice and you could win a set of Stamp Attack stamps!  You can read all about our sponsor and our challenge below.
Thanks for going through the mail with me today!
Amy*
The Fish-Footman began by producing from under his arm a great letter, nearly as large as himself, and this he handed over to the other, saying, in a solemn tone, `For the Duchess. An invitation from the Queen to play croquet.' The Frog-Footman repeated, in the same solemn tone, only changing the order of the words a little, `From the Queen. An invitation for the Duchess to play croquet.'
Then they both bowed low, and their curls got entangled together.
–Chapter 6, Alice's Adventures in Wonderland
Just like the Queen's letter to the Duchess, our challenge this month is to create something with a postal theme – stamps, postcards, letters, envelopes; however you choose to interpret that. As always, all entries that meet the challenge theme are accepted but Wonderland entries are encouraged (they get two chances instead of one in the prize drawing). Friday, June 22 is the last day to enter this month's challenge.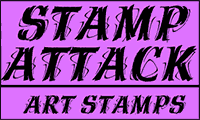 Our sponsor is Stamp Attack, a British company that is well known (among other things) for their fantastic Alice stamp plates which have sold to customers all over the world. In fact, Helena Bonham Carter, the actress who played the Red Queen in the Tim Burton Alice movie, purchased sets of Alice stamps from Stamp Attack, which were then delivered to the studio!  Enabler alert: Stamp Attack offers speedy worldwide shipping for only £1 on unmounted stamp orders, so go on and check out their beautiful stamps!
The winner will receive a Stamp Attack gift certificate for £13.50, which is equivalent to one of the Alice stamp plates! We will be showing off two new offerings from Stamp Attack: Alice Faux Postage and Mouses Tail, aren't they great?