I could hardly sleep last night because I am so excited to share my latest work on The Alice in Wonderland dresser!  This project has been 9 months in the making.  Truth be told, it is still not finished but the end is near.  I must admit I don't know quite what I will do with myself once the dresser is finally complete as I have worked on it for so long.  After many months of toiling in my dark basement studio; with only a naked bulb and an Ottlite to light my way the Alice in Wonderland Dresser has emerged from the dungeon to bask in the natural light!
I have not even seen it put together this way as I always have the drawers pulled out to work on them.  It was a glorious day indeed, to be able to see all those months of work come together.
Alice in Wonderland Dresser Before
This is what the Dresser started out as…an abandoned project from many years ago.  Last August inspiration struck during the early days of my creative journey with Plucking Daisies.  Before I go on I just want to thank The Altered Alice, The Octopode Factory, Linda Ledbetter  of Studio L3, Simon Says Stamp and Show, and Tim Holtz for keeping me inspired with challenges, techniques and products used in the creation of The Alice in Wonderland Dresser.
Now on with the show!
Our challenge this month at The Altered Alice is Splendidly Dressed.  The design team is using the new Wonderland Set from Stampendous.  A "Wonderful" set indeed!  As soon as I saw the lovely Alice in her Sunday best and the "Sorry I'm Late" sentiment I knew I wanted to create a mirror for the dresser.  I am ALWAYS late and it's usually caused by staring into the mirror fixing my hair and face.  Ever get Alcohol ink on your face?  If you have then I'm sure you can understand why I'm continually late
I frequented my local thrift shop for a few weeks before I found this beauty!  The book in the corner of the photo has been altered for another project that you can see HERE.   The Mirror was painted with a mix of Krylon Glitterblast and Martha Stewart Acrylic.  Alice and the sentiment were stamped and embossed with Ranger Archival ink.  Colored Pearls were added along with stamped Mosaic Mirror pieces on the sides.
Here you can see the stamped Mosaic Mirror pieces showcasing stamps from the Stampendous Wonderland set.  The hearts are playing cards cut with the Fiskars Funky Heart punch.  Crystals and rhinestone hearts were added for sparkle and shine.  Hey did you know that E6000 applied to the back of a rhinestone will create an amber glass effect?
I created the trim along the inside of the dresser using craft metal and alcohol ink…a Tim Holtz technique…and stamped a repeating pattern of Stampendous stamps.
The Feet were painted and embossed using a resist technique from Tim Holtz that you can see here.
The same resist technique was also used on the lip of the dresser using Indigo Blu stamps.  The Rainbow striped sides were hand painted with Martha Stewart Glitter Paint.
If you haven't seen all the details on how I created the individual drawers you can read all about my process, products and Tim Holtz Techniques I used in these posts:
The checkerboard trim was created using Core'dinations Gemstone and Glitter cardstock with an EK success square punch and of course Mod Podge to adhere and seal (I have probably used at least a gallon of Mod Podge on this project).
Here are the Links for the other drawers:
I worked from the bottom up on this project and these are the drawers that started it all!  You can view them here:
"Off With Their Heads!" Drawer
Here is a side view of the Dresser I have one more side left to do.  Don't worry I have BIG plans for that side but you will have to wait and see
  The bottom trim has been left open for May's Altered Alice Sponsor.  Is the suspense killing ya'?  Don't worry we are almost there!  For now you can check out the right side if you haven't seen it yet…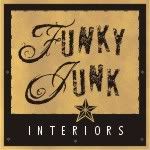 Dressers are all the Rage at Funky  Junk Interiors….I think this one's pretty funky don't your? I'm also linking this project to Five Days Five Ways…it's a free for all…what's not to love about that?
This month at LESSology the challenge is a "Chest of Drawers".  Is that not right up my alley?  I think so!  Nearly everything used to alter this dresser is an up-cycled item…including the dresser itself.  Can you believe my former roommate from once upon a time was going to toss this baby at the dump?  Neither could I.  Consider it rescued!
I hope you will join us at the Altered Alice this month for your chance to win a Stampendous Wonderland set of your own!  There will be 3 winners this month!  Woo Hoo!  You can find all the details about the challenge below.
If you would like to see more of the Stampendous Wonderland set check out my Wonderland Cinder Block Garden and my Tutorial on coloring metal with Copics using these "Wonderful" Stamps!
Stampendous made this
great blog blinkie for us,
grab it if you want!
Thanks again to all who have helped me along in my creative journey in altering this dresser, and to you dear reader for letting me share the journey with you!
Have a creative day!
Amy*
"After a time she heard a little pattering of feet in the distance, and she hastily dried her eyes to see what was coming. It was the White Rabbit returning, splendidly dressed, with a pair of white kid gloves in one hand and a large fan in the other: he came trotting along in a great hurry, muttering to himself as he came, `Oh! the Duchess, the Duchess! Oh! won't she be savage if I've kept her waiting!'"— Chapter 2; Alice's Adventures in Wonderland
April has arrived, which (in the northern hemisphere) brings thoughts of wearing your Sunday springtime best and perhaps donning an Easter bonnet! So we want to you to show us your Sunday best; ruffles, ribbons, lace, frills; however you want to interpret the challenge!

Enter using the Linky Tool below by Friday, April 27. All entries are welcome but Alice in Wonderland entries are encouraged and will receive two chances at the drawing instead of one. Multiple entries are great but each must be on a separate post.