Greetings from Wonderland!  This month both of my design teams have come together for another fantastic challenge!  The Altered Alice is sponsored by The Octopode Factory this fine February and that just makes me happy, happy, HAPPY!   The concept for the Alice in Wonderland dresser was born while I was a participant in the Altered Alice and TOFF challenges.  A few months after beginning work on the Alice in Wonderland Dresser I was given the honor of joining both design teams.  Naturally, with the Altered Alice and The Octopode Factory joining forces for this challenge I had to give the dresser yet another Alice inspired makeover.  I've been waiting to tackle one of the sides  with the talking flower scene in mind.  This months challenge was the perfect opportunity.
My inspiration for this scene comes from Disney version of Alice in Wonderland.  I'm a huge Disney dork and this is my FAVORITE scene from Alice in Wonderland.  If you were wondering I absolutely was singing "Golden Afternoon" while working on this project.
The Octopode Factory images used to create this part of the scene are  Retro Alice, Flower Faces, Daffodil stems, and leaves from the whimsical flower set.  All of the images were colored with Copic markers, sealed and mounted on chip board with Mod Podge, highlights were added with Martha Stewart Pearl acrylic paint, and I added a coat of Beacon Decoupage Medium for good measure and added shine.  Rhinestone hearts were added to Alice's hair and around the flowers in keeping with our theme of "hearts".   It's true you CAN "learn a lot of things from the flowers."  I learned that E-600 takes FOREVER to dry!  Thank goodness I keep a shelf full of heavy books and a roll of wax paper on hand for glue drying purposes
I couldn't resist adding the conductor of the Flower chorus and very diplomatic rose.  As I was adding the bud  I was hearing the scene from the Disney movie in my head with the bud saying to the rest of the flowers sheepishly,"I think she's pretty."  Only to get shot down by the discerning iris "Quiet Bud!!"
The Rocking Horse Fly is one of my Favorite Octopode Factory images.  The coloring was inspired by a My Little Pony I have.  Yes I STILL have them…I'll never give them up!  DH tried to get me to sell them on Ebay and I told him he would have to pry them from my cold, dead hands!
So now that we have seen the finished project….which isn't quite yet finished since I will be adding a few of my own illustrations to the scene at a later date….I'll take you through my process of painting the background and setting the scene.
The original paint job was done with Folk Art Acrylic.  The mottled blue background was the perfect base for creating an Alice in Wonderland Garden scene.
To create the new and improved background I used a bunch of Folk Art paints and the Baby Wipe technique to create shadow laden sides with a sun drenched center.
Looks like a Golden Afternoon to me!  What do you think?  Sometimes I have doubts about my painting skills but I was quite satisfied with the dark and light tones I was able to create with the baby wipe technique.
The background vines were created with a mix of Dark Pearlescent Folk Art Acrylics.  I painted on water-color paper and added a mix of Perfect Pearls Patinas to the wet paint.  To add texture I dotted the vines with Glossy Accents and edged them with Distress ink.  I then painstakingly Mod Podged them to the dresser.
Before Mod Podging the Vines I cut some leafy branches with a Sizzix die  I got on clearance for five bucks from Core'dinations Gemstone card stock.  They add a lot of shimmer and interest to the background.  Once the vines and branches were Mod Podged to the dresser I gave it a few sprays of Krylon Glitterblast Diamond Dust and a coat of Glitterblast Sealer.
Thanks for taking a walk through my Alice in Wonderland Flower Garden.  Hope you will join us for the Hearts Challenge at the Altered Alice and for weekly challenges at TOFF!  You can see all the details about the Hearts Challenge and our Fabulous sponsor The Octopode Factory below.
Have a Golden Afternoon!
Amy*
Since February contains Valentine's Day, we are challenging you to show us your HEART (or hearts), in whatever form you'd like to interpret that! Our sponsor this month is The Octopode Factory, who is offering a $30 Etsy shop gift certificate to one randomly selected winner.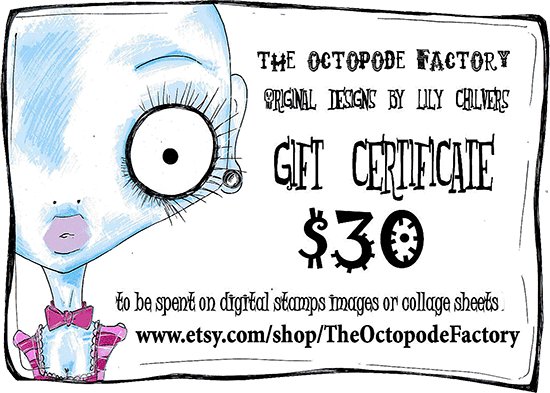 The Octopode Factory has amazing and unique images born from the fertile imagination of Lily Chilvers. The Etsy Shop carries her digi stamps and collage sheets, and she has large and small rubber stamps available through her blog. Be sure to check out all the incredible Alice in Wonderland characters and digital stamp sets, and visit!  And for fun and inspiration, be sure to visit Lily's blog and The Octopode Factory Friday challenge blog, or TOFF for short!
This is a very short month, so you have only until Friday, Feb. 24 to submit your entry! As always, projects that feature Wonderland will have two chances at the prize instead of one. Multiple entries are fine, but each must be on a separate post. Please join us!